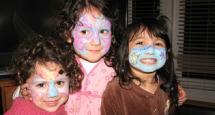 Facepainting and cakes for kid's parties!

Sweet because this is the perfect place to order scrumptiously soft homemade cakes. I bake them using much less oil then the usual recipe and also less cholesterol, but are deliciously soft.

I also have the option of jello or different kind of flans to accompany the cake.

Wonderland since kids have fun with the facepainting.  The paint that I use is hypoallergenic, easy to wash off and it is called snazaroo!

Call me or email for more info! time to party!!

Welcome to Sweet Wonderland!